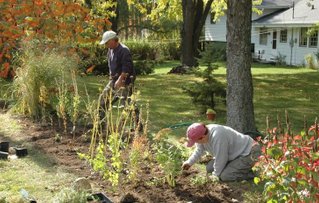 Many of us have help with our yards including weekly mowing, seasonal clean-up and planting. Most employees of landscaping companies are hard working, they make many hours doing physically demanding work. Generally they have very limited knowledge of horticulture. They are maintenance technicians, rather than landscapers. Often they are unaware that their practices are not only unhealthy for our yards and our environment, but are unhealthy for them as well.
---
The serious fear of landscaping companies is that when residents resist blowing, or want to naturalize their yard, they will lose income. But many of the conventional practices have good healthy alternatives. Also, most homeowners take pride in their yard, and even when they have a natural yard, they want it look good.  So don't hesitate to tell your landscaper that you want a healthier yard. If your landscaper is worried, show him this website. We explain simple practice-changes and offer ample of resources, and they are welcome to contact us with questions.
---
If your landscaping company, for some reason, doesn't respond to your request, you can use our directory to find a more suitable landscaper in your area. There are plenty of sustainable landscaping companies that are happy to answer to your wishes for a healthier yard.